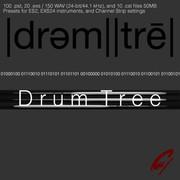 9 Soundware has announced the release of Drum Tree, a collection of presets and instruments for Apple Logic Pro inspired by drums.
The concept behind the sound set was to adapt electronic drum timbres, commonly handled as static snapshots in the form of samples, to the keyboard paradigm and reactive qualities of synthesis.

In addition to acting as source presets for resampling, these patches allow for heightened flexibility in sequencing dynamic rhythms and interactivity in performance contexts.

Featuring three main components, the multi-format product includes files for the ES2 synthesizer and EXS24 sampler, as well as Channel Strips.
Drum Tree features
100 ES2 presets, categories include "Bass Drum", "Snare Drum", "Hi-Hat", "Tom", "Crash Cymbal", "Ride Cymbal". "Side Stick", and "Hand Clap".
20 EXS24 instruments based on 150 samples.
10 Channel Strip settings which alter dynamics. They consist of compressor-based plug-in chains which heighten loudness and punch, those which tighten the decay portion of audio using the Expander plug-in, those with high compression ratios to increase perceived sustain, as well as those which compress reverb.
Drum Tree is available to purchase for $39.99 USD. ES2 and EXS24 parts are available separately for $24.99 USD and $14.99 USD respectively.
More information: 9 Soundware / Drum Tree