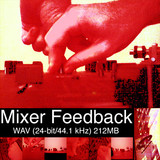 9 Soundware hasreleased Mixer Feedback, the third and final release in a series of sample packs featuring DJ Shiftee, the winner of the 2007 DMC World Championships.
These loops showcase DJ Shiftee's innovative techniques, in which he uses nothing but a mixer to create an astonishing variety of textures. By manipulating a feedback loop with the mixer's onboard controls, he performs phrases ranging from simple feedback rhythms to blistering walls of noises and bassline-like phrases. The ingenuity behind the unique performance is simply extraordinary and gives new meaning to the phrase "mixer as a musical instrument". Created in the spirit of experimental music traditions with the artistry of a world class DJ, these unusual samples would surely make for interesting additions to loop libraries in need of something different.
Mixer Feedback features
131 loops (1 to 4 bars in length).
Loop tempos: 70, 80,90, 100, 110, 120, 130 and 140 BPM.
212 MB download contains files in WAV format (24-bit/44.1 kHz).
Mixer Feedback is available for $29.99 USD.
Visit 9 Soundware for more information.