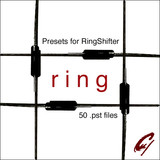 9 Soundware has announced the release of Ring, a collection of presets for the RingShifter ring modulator/frequency shifter within Apple Logic Pro.
These settings explore the audio morphing capabilities of the unique plug-in, which combines the two effects.
Ring features
35 presets in Frequency Shifter mode and 15 in Ring Modulator mode.
Examples include settings which add delay-based rhythmic layers to drum grooves (e.g., Drum Ricochet 1.pst), generate tempo synced modulations (e.g., Automation Surprise.pst and Space Cake.pst), radically reshape harmonic structures (e.g., Anti-Tune.pst and Fiend.pst), as well as those which maintain tonality of the input signal (e.g., Daguerreotype.pst and Sun Dance.pst).
The 0.2 MB download includes 50 .pst files.
Ring is available now to download for $14.99 USD.
More information: 9 Soundware / Ring