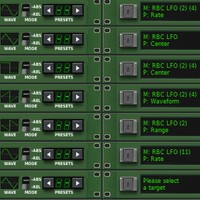 Abeem Live Technologies has updated its Rack Performer modular host for Windows to version 0.98-beta2, its last public beta version.
This is the last opportunity to join the beta test program, as registrations will be closed soon, and the application transitioned to closed beta phase.

Several new features have been added in this release, including the Live Synopsis, Presets Links, Quick keyboard mapping and VST-Shell support (ex: Waves plugins)
Changes in Rack Performer to 0.98-beta2
The new "live synopsis" is a centralized interface to manage all document mappings easily.
New "mappings" module context menu entry displays the live synopsis for the selected module only.
Patcher operations are no longer disabled when patch is powered, but remain locked when perform mode is enabled.
Perform mode semantic has changed: it can be enabled or disabled independently of the main mode (patch or edit).
VST Shell plugins (ex: Waves) are now fully supported.
Presets links allow to link module preset numbers together such that changing any link member also changes the others.
Quick keyboard map allows to easily create control focus key mappings.
Implemented "free-wheeling" synchro config option (default: on).
In full slave mode with free-wheeling off, application stops and re-locate when timecode or clock signal stops (not requiring transport control commands).
In live synch mode with free-wheeling enabled, stoping and restarting the master makes the application properly re-lock synch.
Patcher copy, cut and paste operations are now functional.
Modules can now be renamed (new entry in patcher module context menu).
Many minor modifications and bug fixes, details here.
Rack Performer 0.98-beta2 is available to download at no cost (free registration required).
More information: Rack Performer