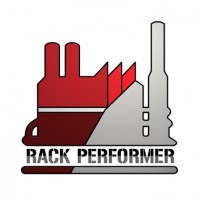 Abeem Live Technologies has released version 0.99 beta 2 of its Rack Performer modular host for Windows.
This is the last version before 1.0 and it adds complete multi-channel audio recording support, as well as many usability improvements, mostly in the patching workflow and the audio monitor.

With the new any-point recording and record groups features it is possible to "plug" the audio recorder anywhere in the patch, and record simultaneously any number of sources and channels directly to the hard drive.

The audio recorder can be mapped to external controllers and with the follow-clock option and external synch on, the process can be fully remote-controlled and slaved to any external transport master device.

Several improvements have been made to the patcher, including the new "swap" and "disconnect" actions, as well as better multi-point patching and smoother overall operation when performing actions on multiple selections.

Amongst the notable additions, VST programs and banks (FXP/FXB) can now be imported and exported via the module context menu. The audio monitoring system has been improved too, and many reported bugs were fixed.
New in Rack Performer v0.99 beta 2
New Audio Recorder with associated floating window and global application control ports for external mapping (source/volume/enable/cut).
Any-point Recording allows to record audio from any patch location(s), pre or post processing level, and stream data to disk in real-time.
Monitor groups and associated groups management dialog (allow record source switching and complex source selections).
Follow-clock recorder option makes the audio recording start and stop with the master clock (sample accurate).
One file for all channels or one file per channel recording option.
Application can export audio to EBU RF64 file format (all bitdepths, including IEEE Float32).
Application can export audio to WAVE file format (all bitdepths, including IEEE Float32).
Audio recordings above 4GB in size are automatically converted to RF64 format.
Many minor modifications and bug fixes. See the changelog for details.
The new beta is available to download for Windows. The beta is fully functional, but document saving and audio recording are disabled in this demo version.
More information: Abeem / Rack Performer