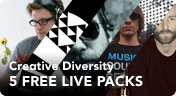 Ableton has announced the released of Creative Diversity, a collection of 5 Live Packs from international Ableton artists.
We are happy to present a new series of Live Packs from five international Ableton artists. This collection represents the regional and musical diversity of the Ableton community, featuring experimental sonic textures and drum kits courtesy of Saturn Never Sleeps (USA), funky, Neo-Afro live stylings from Gazelle (South Africa), a breakdown of "Hit Me" — the Italo-disco take on Ian Dury's classic by Telonius (Germany), as well as the results of a sampling spree through the catalog of Truth and Soul Records by Apple Juice Kid (USA) and some experiments in extreme compression from Ben Frost (Iceland).
The Creative Diversity packs are available as a free download (note: commercial use prohibited).
More information: Ableton / Creative Diversity