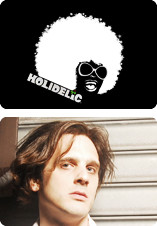 Ableton has released free Live Packs by Everett Bradley and Christopher Tignor.
Whether you've been naughty or nice, to show our gratitude for a rockin' 2010, we are stuffing stockings with two free Live Packs. 'Tis the season and a new Pack from Everett Bradley will have you and yours pop locking around the Christmas tree with a funk-filled take on Tschaikovsky's Nutcracker.

We are also happy to pass along a Live Pack gift from Wires.Under.Tension's Christopher Tignor. Christopher has put together a set of string-based loops dashed with a little Bronx-flavored hip-hop.
Free Live Packs
Everett Bradley

– "Happy Holidays my brothers and sisters. In this package, my keyboard player and arranger Daniel Mintseris and I have created a very special funky gift for you. From my new holiday/funk album HOLIDELIC, I've taken Peter Tschaikovsky's "The Nutcracker-Dance of the Sugar Plum Fairies" and served it up with a side of funk. This track is deliciously renamed "Sugar Rump Fairies."

Christopher Tignor

– "Experimenting with the violin loops… and subjecting them to some automated transformations, a sort of neo hip-hop flavor fell out… The core sounds of the band then all found their way in: digitally extended glockenspiel melodies, punchy brass hits and even some overdriven clavinet."
The Live Packs are available as a free download (commercial use prohibited), requires Ableton version 8.2 or higher.
Note: These Live Packs use instruments that are only available as add-ons or as part of Ableton Suite. If you open one of these Packs and you don't own all of instruments that it uses, or you are using Live Intro or Live Lite, then Live will run with saving/exporting disabled.
More information: Ableton