Ableton has introduced Iota by LA-based artist and musician Dillon Bastan, a Max for Live granular looping instrument that wrings endless creative potential out of even the simplest samples, via an inspiring graphically-driven interface.
From intricate micro-grooves and polyrhythmic textures to wild melodics and never-repeating drones, Iota's intuitive workflow takes your samples to places they've never been before.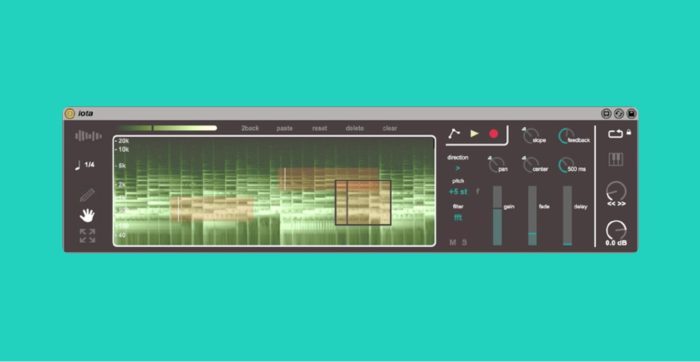 Conceived and developed by Los Angeles musician, artist and programmer Dillon Bastan, Iota enables spectral regions within samples to be 'windowed', looped, layered and processed for the creation of all kinds of tones, soundscapes, glitches and rhythms.

You start by dragging a source sample into Iota from Live or your operating system – a beat, a vocal, a pad, a found sound – and selecting a region within it to be rendered as a continuous stream of tiny slices. Familiar graphical editing tools are then used to draw, move and resize 'boxes' in the spectrogram, each one defining the length and frequency content of a band-pass filtered loop in a clear and immediately representative visual manner. By arranging and overlapping multiple boxes, you can deconstruct, fragment and dice the original sample to as coarse or fine a degree as you like. Create lots of small loops to atomise and reimagine a percussion clip, for example, or a few larger ones to carve an orchestral string section up into a scintillating multi-dimensional ambience.
Iota is available for 29 EUR. Requires Live 9.7 Standard or higher and Max for Live version 7.3.4 or higher.
More information: Ableton / Dillon Bastan Iota