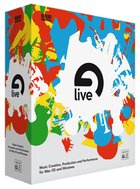 Ableton has released Live 6 LE, the entry-level version of Ableton Live, which provides a simple interface and the pro-level features you need for recording, songwriting, producing, remixing and DJing.
Ableton Live 6 LE features
Studio-quality recording up to 32-bit/192 kHz
Sixty-four audio tracks and unlimited MIDI tracks per project
Powerful and creative MIDI sequencing for software instruments
More than twenty built-in audio effects, including a host of creative delays, filters, distortions, studio compressors and EQs*
Includes two software instruments—Simpler for creative sample-based synthesis, and Impulse for dynamic, sampled drums*
Supports VST and AU effects and instruments*
Real-time time-stretching and warping of AIFF, WAV, Ogg Vorbis, FLAC and MP3 files for DJing and instant remixing
Tweak Live's controls in real time with any MIDI controller—just MIDI-map it or choose from a list of popular supported controllers for instant mapping
Multicore and multiprocessor support
All editing of your musical creations is nondestructive, so you can experiment without worries
Single-screen user interface for simple, creativity-focused operation
* Live LE is limited to twelve simultaneous built-in audio effects, eight built-in instruments, two AU/VST effects and two AU/VST instruments per project.
At a first glance a few key features from Live 6 missing from the LE version seem to be the limited amount of instruments and effects per project, no editable Instrument and Effect Racks, no Track Freeze and Rendering individual tracks (and a limit of 64 audio tracks per project), and no MIDI output to hardware synths…
Ableton Live 6 LE costs EUR 169/USD 199 for the boxed version, and EUR 129/USD 149 for the download version. That's still a few hundred less than the full version. Upgrades from Live 6 LE to the full version will be available soon as well.
Visit Ableton for more information.