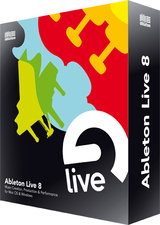 Ableton has updated its Live music production software for Windows and Mac to version 8.3.1.
Ableton Live is about making music; for composition, songwriting, recording, production, remixing and live performance. Live's nonlinear, intuitive flow, alongside powerful real-time editing and flexible performance options, make it a unique studio tool and a favorite with live performers.
Changes in Live 8.3.1
Improvements and feature changes:

Added support for Mac OS 10.8 "Mountain Lion".
Improved performance when recording many MIDI CC data into MIDI clips.
The default takeover mode for control surfaces has been changed to "none" (this will only affect new installations).
Minor changes for usage data reporting.

Bug fixes:

Fixed a bug which could lead to degraded resolution of automation data when recording automation for VST plugins running in Novation's Automap shell.
Fixed a bug which prevented samples from being opened in an external sample editor.
Fixed a crash which could occur when importing two identical audio files into Live.
Fixed a bug which could lead to two undo steps when freezing a track.
Fixed a bug which could cause the save dialogue to disappear in OS X Lion.
Under certain conditions, Live's splash screen wouldn't appear on OS X Lion.
Opening an alias file of a Live set wouldn't work on OS X Lion.
Fixed login problems in the SoundCloud uploader on Windows.
Fixed a rare crash which could occur with automatic updates on certain Windows computers.
The update is available to download for registered Live 8 users.
More information: Ableton