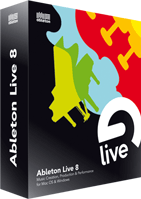 Ableton has released version 8.2.1 of Live (and Suite), the music production software for Windows and Mac.
Changes in Live/Suite 8.2.1
Improvements and feature changes

Improvements to Amp presets including better folder organization, additional guitar and bass amp presets and various other changes.
Improvements to sound quality in Drum Machines.
Performance optimizations on many Rack presets.
Many delay devices now use the "Fade" Delay Transition mode, to avoid clicks.
All Latin Percussion sounds are additionally available as chromatically tuned Simpler presets.

Bugfixes

Amp is now available in the trial version of Ableton Suite.
Removed duplicate Amp presets.
Fixed Hot-Swap behavior for a number of Session Drums and Drum Machines presets.
Fixed a bug that prevented the use of soundcards with only one input on OS X.
Fixed a crash that occurred when using a ReWire slave such as Reason and manipulating devices in the slave that were referred to by clips in Live.
More information: Ableton