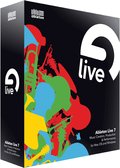 Ableton has released version 7.0.2 of Live, the complete music solution for Mac OS and Windows.
The update includes:
Updated (or corrected) info texts, manual and lesson pack.
Support for Propellerheads Recycle 1 files (.rcy).
MIDI Surface Controller support for Faderfox LV1, LX1, LV2, LX2, LC2 & LD2.
Drum Rack support for Korg KONTROL49 & microKONTROL.
Control Surface support for the Korg ZERO8 and Akai MPD32.
Check the Ableton forum for detailed information on this update.
Visit Ableton for more information.