Ableton has announced the released of Live 9.6, featuring the new Link technology that keeps devices in time over a wireless network or ethernet connection.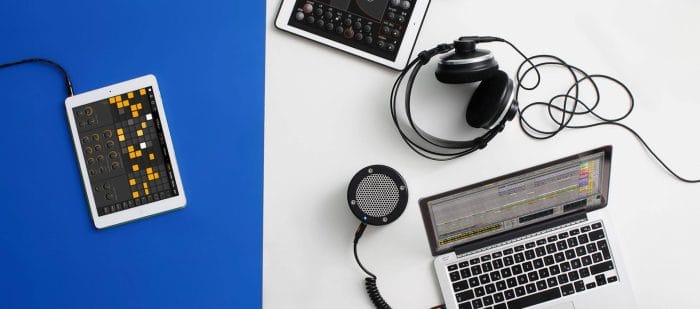 Our new technology, Link, is now available in a free update: Live 9.6. Live 9 users can login and download the update now from their account page. Full details of the update's features and fixes, which includes improvements to both versions of Push, can be seen in the 9.6 release notes.

What is Link?

If you haven't heard about Link, it's a technology that lets you play electronic instruments together effortlessly. Link synchronizes beat, phase and tempo of Live and Link-enabled iOS apps over a wireless or ethernet connection, which means you can use it to play together with others and make music using a range of devices.
Changes in Live 9.6
Introduced Link, a technology which keeps devices in sync when connected to the same network. A 'Link' section has been added to the Link/MIDI preferences tab.
Link and The Bridge prevent each other from starting once switched on. Moreover, Link and The Bridge both switch off External sync when activated.
Link, The Bridge and External Sync are not available when Live runs as a ReWire slave.
The Python framework has been updated to support Python 2.7.
Added control surface support for the Arturia KeyLab series, Arturia BeatStep and Arturia MiniLab.
Added Control Surface support for the Alesis VX series.
When tweaking Warp mode specific parameters in Simpler (i.e. grain size, flux), these are now updated in real time. Previously, these would be only updated on a per-note basis.
Improved the time required to slice an audio sample to a Drum Rack.
Slicing visualization improvements and other minor cosmetic tweaks for Simpler and Sampler.
While samples are offline or still decoding, Slice to Drum Rack and Slice to new Midi Track from Simpler are disabled.
Add a preference to re-enable random clip colors.
Updated fonts and added a number of special characters.
The Live 8 Legacy Mode in Operator has been renamed to something more meaningful.
Performance improvements in waveform rendering.
Many bug fixes and changes for Push. Read the release notes for details.
Ableton Live is available for purchase for 79 EUR (Intro) / 349 EUR (Standard) / 599 EUR (Suite). Live 9.6 is available as a free update for Live 9 users.
More information: Ableton