Abletunes has announced the release of its new RVRB algorithmic reverb plugin designed by producers for producers.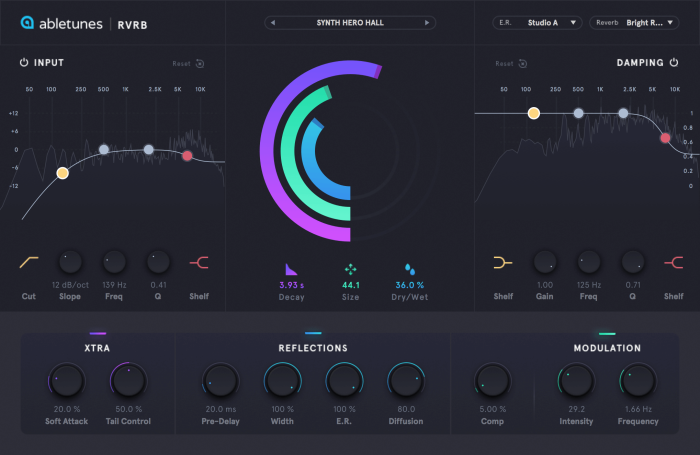 The reverb does not aim to emulate hardware, but to create a modern reverb tool for modern music production. It is capable of a wide range of natural and creative reverb sounds, from small rooms and studios to wide halls and modulated spaces.
Based on high-end algorithm, it delivers a wide range of reverb sounds, from small ambiences and rooms to wide halls and heavily modulated spaces.

Designed by producers for producers, RVRB is a versatile reverb plugin that comes packed with lots of innovative features for modern music production – Soft Attack, Tail Control, built-in compressor, Input and Damping EQs, and many more.
RVRB features
Slick retina-ready and easy-to-use interface.
Soft Attack knob that smoothens the initial transient of input signal to pick up the reverb from the body of the instrument/sound and reduce unpleasant smacks in the reverb tail.
Tail Control knob that allows you to limit the length of the reverb tail by the input signal length. This helps you to create more controlled and creative reverb effect.
Built-in compressor to make reverb tail more prominent and louder.
Full-featured 4 band parametric equalizer for shaping the input signal.
4 band Damping equalizer that allows you not only to reduce high or low frequencies but also to cut certain frequencies to get an even more interesting reverb sound.
Stereo width control for widening or narrowing the stereo image of the reverb.
12 reverberation algorithms ranging from basic rooms and studios to halls and plate.
Real-time spectrum analyzers for both Input and Damping equalizers.
60+ Built-in presets for the most common instruments and sounds.
The VST3/AU plugin is available for $99 USD.
More information: Abletunes