Abletunes has announced the release of Selektor, a drum sampler instrument plug-in for Windows and Mac.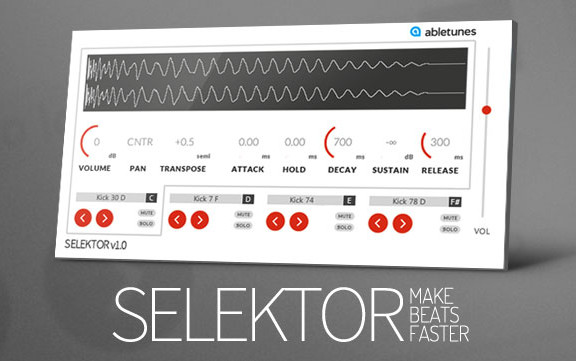 The idea of Selektor is simple – quickly and easily switch between one-shot samples while your track is playing to instantly hear how it fits in your track.
Selektor features
Make beats in minutes, not hours. With Selektor you can easily switch one-shot samples on a fly while track is playing so you'll always hear how this new element sounds when combined with the other elements of your track making it much faster to find the one that works.
Wider selection. With Selektor's tabs you can save and compare up to 4 different samples at the same time and switch between tabs on the fly to find the perfect one.
More Customization. Tweak volume, transposing and envelopes of each sample to perfection.
Get rid of routing. The concept of Selektor is taken from traditional studio recording style – one instrument – one track. If you have kick track you have it as a separate track and process it as a separate track without wasting time on routing.
Save CPU processing power. Selektor is easy on your CPU. This plug-in works quickly and doesn't eat up your pc memory. We created this plugin with resource savings in mind so you can easily use one Selektor instance for your kick, one for snare, and one for every other element of your beats.
Creativity boost. Don't let your gear get in the way of your creativity. Selektor lets you explore more of your creative ideas while you work on your track.
Selektor (VST/AU) is available for purchase for $35 USD.