I used to live a pretty good life. I was generally kind, honest, fair and generous; basically an all round good guy. I also used to think that people who believed in God (any kind of God) were just looking for something to hold on to, possibly because they couldn't deal with certain things themselves.
Well, I guess that's exactly what happened to me. I hit a bit of a rough spot in my life, putting many things in my life in a different light and I soon found myself looking for answers to the questions of life.
Anyway, to keep the story a bit short, I came to faith. A living faith, a personal relationship with God. A God who sent His Son Jesus Christ to earth, to die for my sins.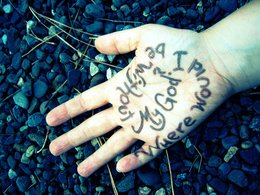 I'd like to share some scriptures from the bible in support of my faith, so if you're bible shy or feel like what you've just read is a load of mumbo jumbo, you may want to skip the next bit for now and perhaps come back later.
For God did not send his Son into the world to condemn the world, but to save the world through him. John 3:17 (NIV)
That's a good thing, because it as it turns out, I'm not all that "good" after all —
for all have sinned and fall short of the glory of God. Romans 3:23 (NIV)
Since the fall of man, every human being has to deal with their sinful nature. It is the sin that separates us from God, and the price of sin is death (a permanent separation from God).
However, God loves us so much that He gave us His Son to be a perfect sacrifice, and a way to be reconciled with Him.
For the wages of sin is death, but the gift of God is eternal life in Christ Jesus our Lord. Romans 6:23 (NIV)
What a great gift! And it's not a gift I could earn myself, by doing good works, being nice to other people or something like that. Instead it is made possible by the grace of God (Ephesians 2:8).
Instead of living to fulfill my selfish (and sinful) desires and do what I think is best for me, it is my goal to live in a way that brings glory to God, with everything I do.
So whether you eat or drink or whatever you do, do it all for the glory of God. 1 Corinthians 10:31 (NIV)
This is not always easy… It's a continuous process of growing closer to God and finding out what He wants me to do with my life, with every moment, every decision, every day. Of course I also make mistakes, but when I do I can rely on God's grace and mercy.
I am looking forward to being with my Father in heaven, who created me and loves me more than anyone else. It is my personal belief that getting to heaven can only happen by turning away from my old life (repentance) and accepting Jesus Christ as my Lord and Saviour.
Jesus answered, "I am the way and the truth and the life. No one comes to the Father except through me." John 14:6 (NIV)
I believe that God doesn't want you to be lost either!
The Lord is not slow in keeping his promise, as some understand slowness. He is patient with you, not wanting anyone to perish, but everyone to come to repentance. 2 Peter 3:9
Of course there's a lot more to tell. I'd be happy to answer any questions you might have about my faith.
If you want to know more about Christianity you could also check out RBC Ministries, who offer some great resources i.e. 10 reasons to believe, Our Daily Bread, and much more.