Abstract Data has announced the ADE-32 Octocontroller, a new modular output controller.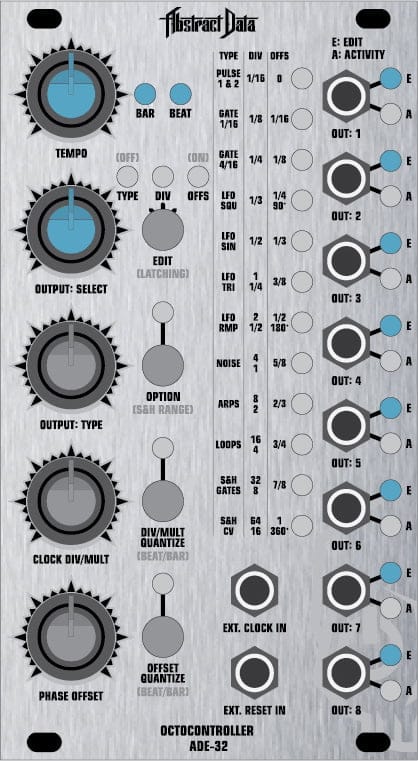 It's an 8x output controller capable of delivering multiple, synced output types including Pulses & Triggers, Gates, LFOs, Arpeggios, Rhythmic Patterns and a host of S&H features including Gates, CV and Looping.

Outputs can be set to divisions or multiples of the master tempo, there are a variety of phase/offset options and it can run from its own internal clock or an external clock source.

It's completely stand-alone and there's no menu diving.
The ADE-32 Octocontroller is due for release in the next few months.
Abstract Data will be showing 5 new modules as part of the legendary Schneiders Buero Super Booth at Hall 5, Level 1, Stand C53 at the upcoming Musikmesse in Germany. The forthcoming ADE-32 Octocontroller, ADE-40 Shaping VCO, ADE-50 3x Linear VCA, ADE-51 VC AHDSR / AHD Envelope Generator, ADE-52 4x Mix/Attenuator and Abstract Data's current Eurorack product range will all be available to demo.
More information: Abstract Data