Abstract Data has announced the release of the ADE-30 Wave Boss and the ADE-31 Logic Boss, two new Eurorack modules.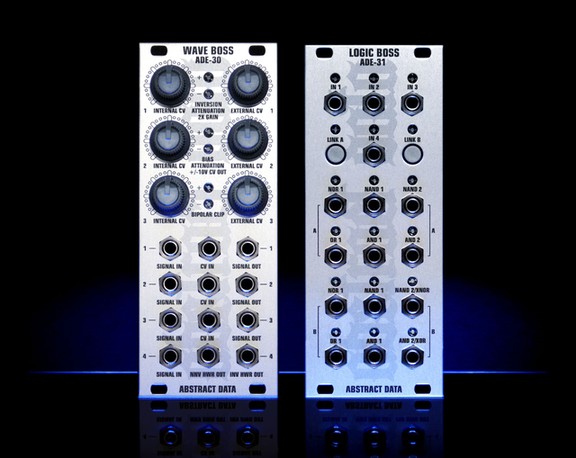 The ADE30 combines the most practical and commonly used waveform and CV utility functions in a compact, fully featured module with 4 independent, DC coupled stages and 7 unique functions in total.

The ADE31 is a multistage, switchable logic and pattern generation module combining utility and performance oriented features. Up to 4 inputs and 12 simultaneous outputs in a unique cascading architecture with CV switching and linking between the 2 stages.
ADE-30/ADE-31 features
ADE-30 Wave Boss:

4 stage waveform & CV utility module.
Independent stages, 8 functions in total.
DC-coupled ins & outs for each stage.
Works with Audio, LFOs, CV, Logic & EGs.
External CV control & on-board attenuation.
Indicator LEDs for positive & negative cycles.

ADE-31 Logic Boss:

2 stage, switched, cascading, logic module.
Up to 4 inputs & 12 outputs – simultaneously.
Unlinking gives 2 independent 6 part stages.
Link stages by CV & on-board switching.
RTL works on all input types – not just logic.
LED indicators for all inputs & outputs.

Power supply reverse-voltage protection.
Low-profile build mounts in any depth rack.
Both modules are now on sale for £145 GBP each (inc. free shipping).
More information: Abstract Data