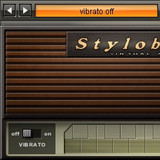 acid.milch&honig has released stylobox and transistor drums 2.0, two instrument plug-ins for Windows.
I started a little new series, the acid.milch&honig micro toys, and stylobox is the first unit: it is my try to emulate a well known classic.

it works with something between virtual analog and physical modelling and has no samples inside. and because of this fact now I was able to play octaves, which my original never had ;)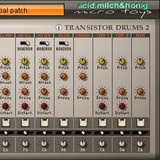 transistor drums 2.0 is the second unit in the micro toys series.
its sound is a little bit inspired by the 808 and 909 classics but it was not my intention to make it sounding original it sounds more acid.milch&honig ;)
Changes in transistor drums 2.0
kick = virtual analogue (old version was sampled).
snare = analogue/sample mixed (old was only sampled).
clap = granularsampled (old was simply a sample).
some changes in the envelope response.
The stylophone and transistor drums 2.0 are available to download as donationware VST instruments for Windows PC.
Visit acid.milch&honig for more information.