Acon Digital's renowned reverb plugin Verberate 2 has been announced as a nominee for the 35th Annual NAMM Technical Excellence & Creativity (TEC) Awards in the category of Outstanding Technical Achievement.
To celebrate the nomination, Acon Digital releases a free version of Verberate called Verberate Basic along with updates to version 2.1 for the stereo and immersive Verberate editions.
Presented by The NAMM Foundation, The NAMM TEC Awards are bestowed annually in celebration of the pro audio community by recognizing the individuals, companies and technical innovations behind today's sound recordings, live performances, films, television, video games and other media.
"It's a great honor for us to receive the TEC Awards nomination for our work", says Stian Aagedal, CEO of Acon Digital and continues: "We are small and highly devoted company with a great passion for audio. The recognition from the professional audio community that this nomination represents cannot be emphasized enough and we see it as a tremendous encouragement".
The nomination announcement follows a two-month call for entries of standout technical and creative products and projects that have made a significant impact on modern sound and music. A panel of respected industry voters from pro audio publications as well as members of professional music, technical and creative organizations, along with select NAMM members carefully evaluated each entry before selecting Verberate 2 for the nomination.
The brand new and completely free Verberate Basic 2 offers four reverb programs based on presets from Verberate 2: Plate, Room, Hall and Lush Hall. These programs are based on the renowned Vivid Hall algorithm and were selected to showcase the audio quality and versatility of Verberate 2. The intuitive user interface has buttons to activate each reverb program along with a reverb mix knob.
Verberate Basic 2 is available as of today from the Acon Digital web site. The plugin supports VST/VST3, AU, and AAX Native/AudioSuite formats for Windows and Mac.
Both Verberate 2 and the surround and immersive capable Verberate Immersive 2 were updated to version 2.1.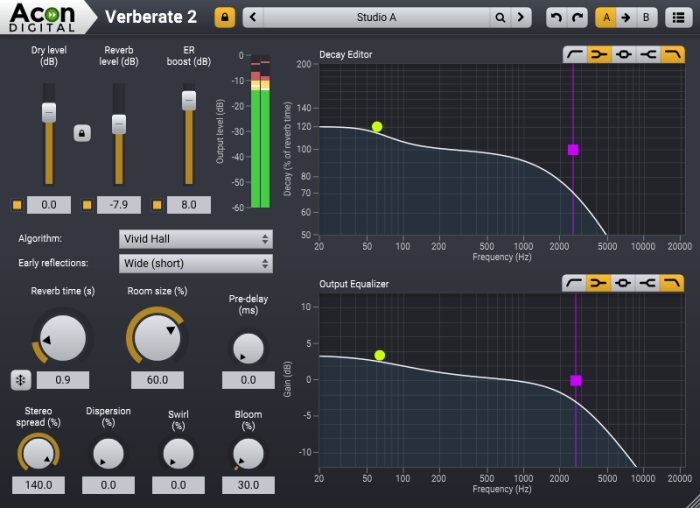 The update brings negative Swirl values which can calm down the time variance if desired. A range of new presets were added to the extensive collection of factory presets.
The CPU efficiency can now be further improved in certain situations by optionally allowing a selectable latency in the range 0 to 2048 samples. The track name and color is now indicated in the header of the plug-in window for a better overview if the host application supports it. Mac users will appreciate that the new versions work with the macOS Catalina update.
The update is free of charge for Verberate 2.x and Verberate Immersive 2.x customers.
The NAMM TEC Awards will be held in conjunction with The NAMM Show on Saturday, January 18th in Anaheim, California.
More information: Acon Digital