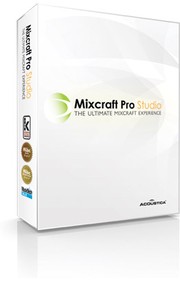 Acoustica has recently released Mixcraft Pro Studio 5, a multi-track recording studio software for Windows.
Mixcraft Pro Studio 5 improves on Mixcraft 5's already impressive line-up by adding three incredible virtual instruments and four powerful new effects valued at $250.00, for a grand total of 26 included effects and 11 included virtual instruments.
New instruments and effects in Mixcraft 5 Pro Studio
ME80 Vintage Analog Synthesizer – Incredibly realistic recreation of the Yamaha CS80 analog synthesizer, among the most powerful and coveted analog synthesizers ever made. This amazing recreation supports polyphonic aftertouch (just like the original) and has the same rich creamy tone as the original.
Memorymoon Analog Synthesizer – No synthesizer in history has ever sounded more massive than the legendary Moog Memorymoog, and Memorymoon perfectly captures the enormous analog sound of the classic original. Loaded with presets and knobs, this 3-oscillator polyphonic powerhouse will blow you away.
Acoustica Pianissimo Virtual Grand Piano – High quality, award winning grand piano featuring 250MB of Steinway Model D piano samples combined with powerful piano modeling technology.
G-Sonique Twisthead VS-206 Vacuum Tube Preamp – Adds subtle analog warmth or fierce overdriven tube grit to your tracks. This vintage tube preamp adds 1960's charm and character to vocals, guitars, drums, and more.
G-Sonique FSQ1964 Transient Vitaliser – This powerful mastering tool adds sweet high frequencies, analog colors, crystal and transparent transients, and boldness to any mix. FSQ1964 adds life and sparkle to even the most basic tracks, so they pop out of your speakers with the crisp modern sound heard on today's chart-topping records.
G-Sonique XBass 4000L Analog Bass Enhancer – XBass 4000L adds the warm, fat bass tone found in vintage tube circuits to your projects. XBass 4000L combines two unique algorithms to enhance the bass spectrum of your tracks, adding emphasis to the audible bass content, enriching the bass and sub-bass spectrum, and boosting the higher harmonic frequencies.
G-Sonique Dubmaster Liquid Delay – This intense delay effect goes far beyond the limits of traditional delays. Dubmaster combines tempo-synced rhythmic liquid delay with powerful LFO-driven filtering and phase effects to add atmosphere and a unique sound to your tracks.
Mixcraft Pro Studio 5 for Windows is available to purchase for the introductory price of $149.99 USD (MSRP $199).
More information: Acoustica Mixcraft Pro Studio 5