Acoustica has announced the release of Mixcraft 7 and Mixcraft Pro Studio 7, major upgrades to the Mixcraft music production and multi-track recording workstation software.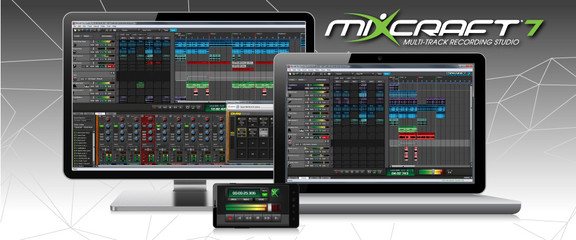 The updated version offers new features, including 32-bit and 64-bit versions, a new interface, live loop and sample triggering, audio warping and quantizing, enhanced control surface support, plug-in management, hundreds of new loops and samples, new virtual instruments and effects, and dozens of other improvements.

The new Performance Panel is designed for composing and performing music both live and in the studio, allowing real-time triggering and automatic synchronization of audio loops, MIDI clips, and samples. The Performance Panel can be manipulated using Novation's Launchpad controller, a MIDI controller, mouse, or computer keyboard. Mixcraft 7 features support for Mackie-compatible control surfaces, as well as Frontier Design Group's Tranzport control surface, and can be configured to work with any MIDI controller. Mixcraft 7 can also be controlled using the free Mixcraft Remote app for iOS and Android devices. Mixcraft 7 also includes the Copula time-stretching and pitch-shifting technology.

Mixcraft 7 ($89.95) is designed for home and project studios. It is a complete recording studio, featuring unlimited MIDI and audio tracks, dozens of virtual instruments and effects, video editing, mixing and mastering, a streamlined interface, and over 7000 loops, sound effects, and drum samples. Version 7 includes two new samplers, the Alpha Sampler and Omni Sampler, and two new virtual instruments, G-Sonique's Renegade Analog Monster and AAS's new Journeys instrument. Also included are new film score loops from Dj Puzzle, as well as a library of acoustic and synthetic drum samples by Los Angeles artist and producer Shok.

Mixcraft Pro Studio 7 ($164.95) is aimed at advanced home and professional project studios. It includes over $1100 worth of plug-ins. Highlights include BeatRig's Sidekick 6 sidechain compressor, Studio Devil's Virtual Bass Amp, QuikQuak's Glass Viper, and ME80 V2, plus a large suite of new mastering effects from G-Sonique. Mixcraft Pro Studio 7 retains all the virtual instruments and effects found in Mixcraft Pro Studio 6, including Memorymoon and ME80 vintage analog synthesizers, Pianissimo grand piano, and dozens of high-end effects including mastering tools from iZotope, G-Sonique, and ToneBoosters.
Mixcraft 7 and Mixcraft Pro Studio 7 are now available for purchase for Windows.