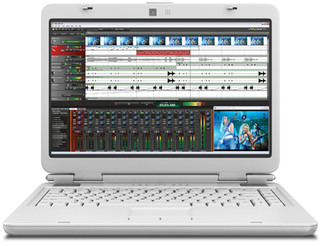 Acoustica has updates its Mixcraft 6 music production and multi-track recording workstation for Windows to build 185.
Mixcraft enables you to record audio, arrange loops, remix tracks, compose with MIDI and virtual instruments, add effects, score and edit video, and mix and master your tracks to create polished, professional compositions. Mixcraft is your music production dream come true, instantly turning your computer into a fully-stocked professional recording studio.
Changes in Mixcraft b185
Library download crash fixed.
Fixes to stub installer.
Language changes/updates.
Fixed trim silence and crop to loop.
Added Rewire DLL to install.
Added preference to disable/enable ReWire.
Noise Reduction fixes.
Computer Keyboard support for VSTs.
Added some SEM files for VB3, MinimogueVA and Messiah.
Arm menu always shows selected device.
Fix for duplicating a track in a soloed SubMix.
Removed send knob for instrument output tracks.
Recording caret was being reset based on snap settings.
Video align clips dialog redone and fixed.
Fix for live MIDI to external device not filtering devices/channels properly.
Was able to change/edit frozen tracks.
Was able to edit recording clips.
Render selection was not working for clips that were not project tempo adjusted.
Bullet proofing for some bad and extremely naughty VSTs.
Mixcraft 6 for Windows is available to purchase for $74.95 USD.
More information: Acoustica Mixcraft