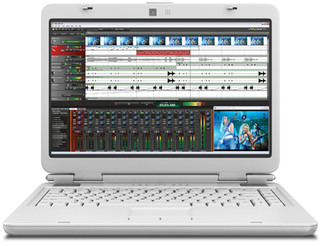 Acoustica has updated its Mixcraft 6 music production software for Windows to v6.0 build 191.
Mixcraft enables you to record audio, arrange loops, remix tracks, compose with MIDI and virtual instruments, add effects, score and edit video, and mix and master your tracks to create polished, professional compositions. Mixcraft is your music production dream come true, instantly turning your computer into a fully-stocked professional recording studio.
Changes in Mixcraft 6 build 191
Fix for recording up to 4 GB limit.
Installer now copying FX presets over from Mixcraft 5.
Fix for weird auto-beatmatching freeze – very rare.
Bulletproofing list traversing crash.
Bulletproofing of sample rates of 0.
Various other bulletproofing.
Now launching PDF for foreign languages if it exists. (None exist yet.)
WaveRT device crash. [Build 190]
Drag and lose focus bug fix. [Build 190]
Bulletproofed editing library. [Build 190]
Now launching web page for translated help files if they don't exist. [Build 190]
Reading file name for meta presets instead of internal name. [Build 190]
Mixcraft 6 for Windows is available to purchase for $74.95 USD.
More information: Acoustica Mixcraft