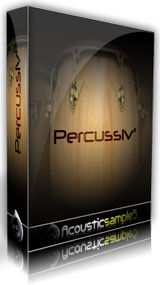 Acousticsamples has released Percussiv', a percussion collection for Kontakt and ASPlayer, a new sampler player plug-in for Windows and Mac.
As opposed to traditional percussions libraries, Percussiv' is based on the detail of each instrument so that each one of them is playable and sounds realistic.
Percussiv' features
15 Detailed Instruments.
1,16Gb sample bank, around 4000 samples no loops Recorded at 24/88,2Khz downsampled to 24/44.1khz.
4 to 8 Round Robins.
A lot of velocity layers.
Detailed instruments with the most common strokes, each one is easy to play.
Advances functionnalities to be able to change the volume, pitch and pan of each instrument (only in the kontakt version).
Instrument list: Agogo, cowbell, berimbao, bongos, 2 claves, congas, chinese gong (tamtam), guiro, 3 shakers, cabasa, tambourine, brazilian tamborim, triangle, udu drums, 6 woodblocks.
The Midi percussion parts of the demos are included to help you understand how to play it.
Available for Kontakt 2, 3 and 4, and our new player: the ASPlayer (VST and Audio Unit for mac, and VST for windows) : you don't need anything else to be able to play it.
Percussiv' is available to purchase as a download for $85 USD (additional shipping fees for DVD version).
More information: Acousticsamples / Percussiv'