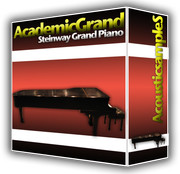 Acousticsamples has released AcademicGrand, a piano sample library for Kontakt, developed in collaboration with Lance Herring.
The AcademicGrand is a 1963 Steinway D concert grand which has seen countless recitals and concerts over the years where it served as the University of Arkansas' primary concert instrument. The piano has been an inspiration to hundreds of students and visitors, and with being well-maintained and cared for, it's a wonderful instrument with a unique history and classic American Steinway sound.
AcademicGrand features
2.82 GB sample library (no loops).
Recorded at 24bit/48kHz.
4 velocity layers for both the sustain and the release.
Pedal up and pedal down samples.
3 release types: notes, thumps, on pedal down (on pedal down only in Kontakt).
Additional pedal noise (up and down), automatic in Kontakt version.
Advanced scripting (kontakt).
Really easy to play, just like a real piano, no more and no less.
AcademicGrand is available for Kontakt 2/3 (Giga coming soon) for 59 EUR.
Visit Acousticsamples for more information and audio clips.