Acousticsamples has announced availability of the VReeds Electric Piano, a virtual instrument based on real samples of Wurlitzer 200 and 200A models.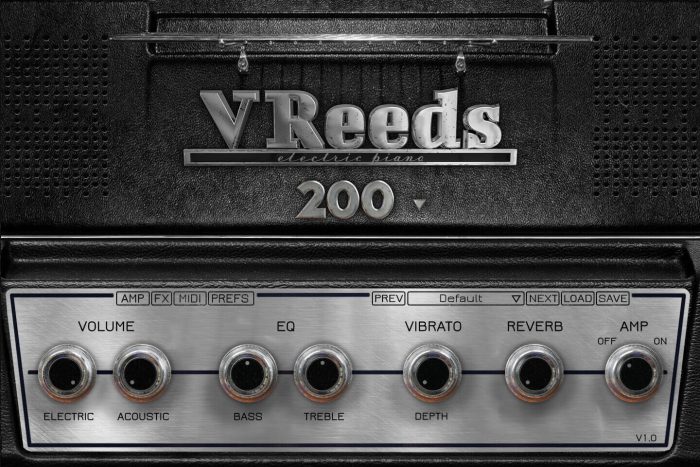 Just like for the VTines and the B-5 Organ, we combined synthesis techniques and sampling to achieve a high level of playability and tweaking while maintaining a realistic sound.

This allows the VReeds to weight only 70Mb and to really sound like a Wurlitzer© Electric Piano with all of its imperfections while having a fully continuous response (if you're not convinced, listen to the 127 velocity example in our video) as well as a highly tweakable sound.

There are a few Wurlitzer Electric Pianos, but the most famous ones are the 200 and the 200A. There are subtle differences between the two models mainly due to the thickness of the Reeds and the amplifier circuit. Instead of choosing one, we decided to sample the two models and offer you the choice from the interface.
VReeds features
Sampling and modeling hybrid of two Wurlitzer models: a 200 and a 200A.
Full continuous velocity.
Perfect staccatos and release samples.
Around 35 high quality presets.
Fully customizable instrument to match any real life Wurlitzer voicing and adjustment..
Precisely measured Vibrato effect.
Different Wurlitzer AMP simulations: 200 speakers, 206A Cabinet, plus a Fender Rhodes suitcase amp and a Twin Reverb amp.
FX Pedalboard with 8 high quality effects.
Completely adjustable MIDI response.
Auto keyboard velocity adjustment tool.
VReeds runs in the free UVI Workstation 3 and is available for 99 EUR / $119 USD. Wurlie users can get a 50% discount.
More information: Acousticsamples