Music technology startup WIFO has developed the ACPD (Anyone Can Play Drums) Drum Kit & Game, a way for anyone to learn how to play the drums — even those who don't own a drum set. It turns any smart device like an iPad or iPhone into a virtual drum set.
When paired with their specially developed kick pedal and realistic drumsticks, the corresponding app can be used to learn to play anywhere.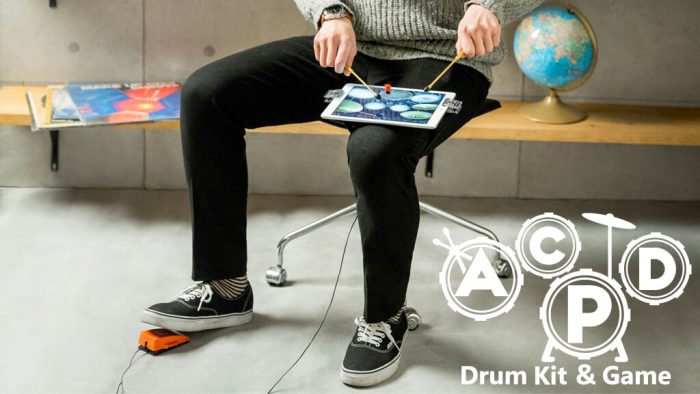 The specially designed drumsticks are constructed with anodized aluminum and a soft conductive tip which allows the player to use actual drumsticks instead of their fingers without damaging the screen. As an added bonus, they can attach the remote touch simulator to the bass drum and use it as a kick pedal just like a real drumset.

WIFO CORPORATION developed a unique app that makes learning to play fun and easy. The app, which was developed in collaboration with an award winning drummer and professor of music, teaches basic drumming techniques and offers rhythm training with games. The drum set can also be used to play other drum and rhythm games like GarageBand, for example. Players can select songs from their device and play along with the music, as well.

"We're passionate about music, especially drumming, and wanted to find a way to pass this passion on by making learning to play, easy, fun, and affordable for everyone. That was the inspiration for the ACPD Drum Kit & Game. There's no need for expensive courses and it isn't even necessary to invest in and find a place to store a drum set. Anyone with a smart device can learn with our system. It's also convenient for those who already play — they can practice anytime, anywhere," explains Casey Kyung, CEO and Co-founder of WIFO CORPORATION.
WIFO is offering a special price of up to 50% off to everyone who pre-orders through the Kickstarter campaign until June 23rd, 2017.
More information: WIFO / Anyone Can Play Drums