Acustica Audio and Xelius have launched Cobalt, a plugin suite that includes a tube EQ, compressor & preamp and an analog modelled dynamic EQ.
Cobalt is an absolute novelty and totally different product respect preceding Acqua Effect plug-ins products.

Through Stefano Dall'Ora from SoundDrops, who is an invaluable collaborator of Acustica Audio; Acustica team came in contact with Luca Martegani, also known as Xelius. Luca is a designer and manufacturer of an amazing suite of hand-built audio hardware, characterised by great sound, quality, and great value.

The equalizer and compressor are the elements of this suite that impressed us the most, so we have decided to base our new product on both of them. We have called it Cobalt.
Cobalt features
Cobalt EQ: Derived from classic Pultec design with some added additional custom features, such as frequencies separation in bass, so you can cut a frequency independently from boost; Then a high band boost section with an extremely personal sound, because it's built only with inductances, instead of capacitors. Obviously our emulation has preserved all these sound features and we are very proud of the result.
Cobalt Compressor: It's an extremely versatile tube compressor. Thanks to Acustica Audio technology, we have been able to faithfully reproduce the original device. CORE X contributed to create a masterpiece able to reproduce the hardware behaviour.
Cobalt Channel Strip and Dynamic EQ: The real novelty of this suite is our Cobalt Dyn EQ, a dynamic equalizer. Just like in audio productions, our idea was created as a sort of "remix" of Cobalt EQ and Cobalt Compressor. The result of this is an incredible Dynamic EQ, first of its kind, based on sampling.
Cobalt Preamp: Cobalt Pre includes 5 different tube preamps to add warmth and colour. They precisely emulate: phase, frequency response, and harmonic distortion of their corresponding circuits.
Cobalt (VST/AU/AAX) costs 179 EUR, with a 20% pre-order discount available for the first 4 weeks.
Also available to pre-order is Amethyst3, Acustica's latest high performance channel-strip and bundle featuring a complete channel strip, a single EQ, a single preamp, and a single compressor.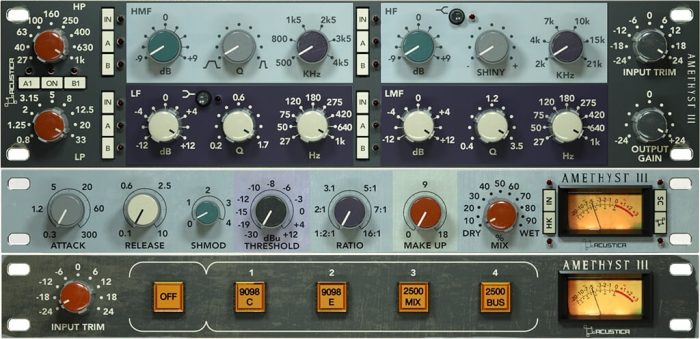 First at all, the plug-in has been updated to CORE X, so the compression times have been greatly improved and faithfully reproducing those of the original machine. We've added controls that are now included in all of our famous Acqua plug-ins (SHMODE – INSANE – DRY / WET – INPUT TRIM)

The filter section is finally complete (A-B mode), the EQ section includes, in addition to the previous EQ (A), a new emulation (B) that derived directly from the same series that the compressor is part of.

This new emulation is characterized by new CONTROLS: GLOWY fo LF section and SHINY for HF section, to change the curve shape to provide warmth (GLOWY) or in alternative balance (SHINY) of your signal to alter the overall sound withou without changing its character. The result of this GLOWY/SHINY modes is very and it can be very musical.

EQ B is a faithfully emulation of an high performance equalizer and preamplifier designed to originate microphone signals of the highest quality and to process signals generally in terms of frequency response.

The circuitry was based on the research by the most famous British engineer put into the emulated console, critically acclaimed as the greatest sounding console of all time and we hope that our Amethyst3 can give you the same feeling! AMETHYST3 is a perfect choice for a high-quality channel-strip to enhance and massage your music!
Amethyst3 costs 99 EUR and is available for pre-order at 10% off.
More information: Acustica Audio