Acustica Audio has released its new Acqua series plugin Maize, an emulation of the Markbass PP10 stereo precision equalizer.
Maize is an Acqua plug-in that faithfully replicates the behavior and sound of the highly prized PP10 by Markbass, a Solid-State Parametric EQ inspired by the sound of the classic equalizers of the 70s and 80s and further enhanced by Acustica with the introduction of features that makes it even more powerful and versatile.

This project inaugurates a close collaboration with Markbass, Acustica wanted to offer the market a product with extraordinary qualities hardly ever found in another EQ.
Maize is on sale for the intro price of 69 EUR until May 26th, 2022 (regular 109 EUR).
Also available is the new FIRE series single-knob plugin Fire The Tilt, a tilt EQ that is designed to make your mix sound better with the twist of a knob.
The plugin features 4 custom filtering modes (2x TILT curves, 2x SMILE curves), 4 processing modes (L-R, M, S, M-S CMPX), output level, and M/S balance controls.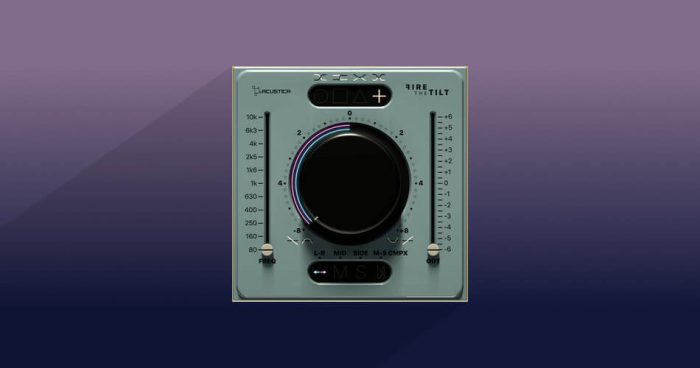 Tilting is often all it takes to turn your track around with a few simple interventions. Sometimes you need to improve your track by making it sit better in a mix, maybe you want to make it almost instantly more 'vibrant' and 'warm' or on the contrary 'cold' and 'less intrusive'…or maybe you may find that your final mix, while being basically well balanced as such, needs only just a bit more highs and less lows…

These are all cases in which the best and quickest way to enhance your mix is a good TILT EQ, and even more so if different shapes and frequencies are available. If that's not enough, think about the possibility of drastically altering the frequency spectrum, allowing you to have more bass and more treble at the same time, or vice versa, less of both… in those situations a SMILE (AKA "Loudness") EQ is the way to go.

Finally, think about applying TILT and SMILE curves only to the Mid or Side component of the signal: by doing so you can further enhance the stereo depth with a few simple clicks, while mantaining the ability to balance the amount of the Mid and Side information.
Fire The Tilt is priced 39 EUR.
More information: Acustica Audio