Adam Monroe Music has released Adam Monroe's Upright Piano, a virtual piano instrument in VST/AU plugin and Kontakt formats.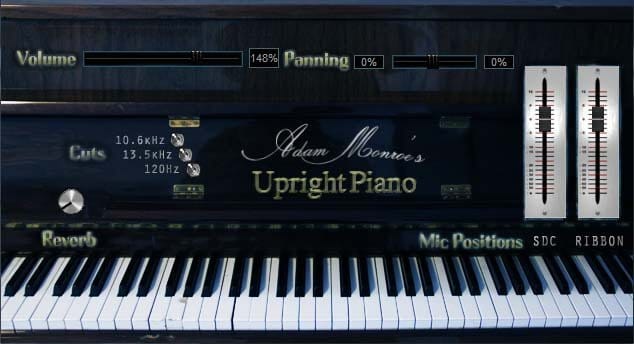 Adam Monroe's Upright Piano was sampled from a (slightly used) Schafer and Sons VS-40 upright piano using Oktava Mk-012 (in cardioid pattern) and AEA Ribbon microphones in wide stereo into Grace M101 and AEA TRP preamps.

The piano was sampled with both small diaphragm condenser and ribbon microphones in order to capture both the transient details and warmth of an upright piano. This approach also allows the user to blend between microphone positions, in order to achieve a more percussive SDC sound, or a laid-back Ribbon warmth, depending on the needs of the track. With both mic positions equal, the piano library achieves a punchy, present, balanced sound useful for pop and solo piano tracks.

Our intention in developing this library was to create a piano voice that was both punchy and clean without sounding sterile or boring. We think the end result is a sampled upright piano that fits nicely into mixes without sounding clean or fake, and that has enough presence to breath life into pop and rock tracks, well also being versatile enough to sound good as a solo instrument.
Adam Monroe's Upright Piano features
10 layers of velocity for each note, 2 note round-robin.
Approximately 3,500 audio samples in total (24bit).
Instrument includes built-in reverb and some anticipated frequency cuts which can be engaged via switches. The cuts centered around 10.6 kHz and 13.5 kHz are the frequencies where the piano's hammer noise is most prevalent, and the 120 Hz cut is intended to clean up mud in bass-heavy mixes.
The Upright Piano is available for purchase for $25 USD (includes VST/AU & Kontakt formats).
More information: Adam Monroe Music / Adam Monroe's Upright Piano