Adam Monroe Music has released Adam Monroe's Delay, a free effect plugin that simulates delays from the simple slapback to the bubbly and experimental.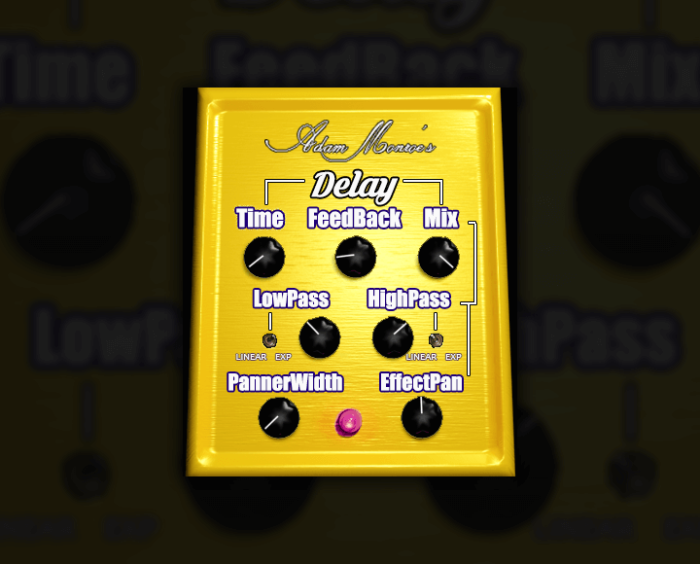 The plugin allows you to set the high pass and low pass filters to linear or exponential, which creates interesting effects like hisses and clicks as the filtering folds-back on the delay buffer.
A delay VST AU or AAX plugin effect isn't that difficult to program – delay effects are relatively simple algorithms to implement. The interesting part is how to implement and manipulate simple concepts to produce interesting results.

Presets include short delay times, which create slapback and doubling effects, to longer delays, and filtered delays that begin to approach the sound of reverb. Some of the delay presets can be used to "thicken" up a signal, as they approach chorus times without pitch-shifting

The minimum and maximum delay time ranges from 0 to 1 second, and the feedback ranges from 0 to infinite. The plugin supports sample rates from 44.1 to 192 kHz and does this by detecting the current sample rate and utilizing appropriate buffer lengths (as opposed to sample rate conversion). Filtering is accomplished through a 3rd-party library, and because of this, it's recommended to use 44.1 kHz, as the filtering library doesn't sound quite the same at higher sample rates.
Adam Monroe's Delay features
Traditional Time, Feedback, and Mix knobs.
High and Low-Pass filtering that can be set to filter linearly or exponentially.
"Ping-Pong" panning that is synced to the delay time, with adjustable width.
Stereo effect, support of 44.1-192 kHz sample rates.
The plugin is a free download for Windows and Mac in VST, AU and AAX plugin formats.
More information: Adam Monroe Music