Adam Monroe Music has released Adam Monroe's Rotary Organ, a tonewheel organ and Leslie speaker simulation for Windows and Mac.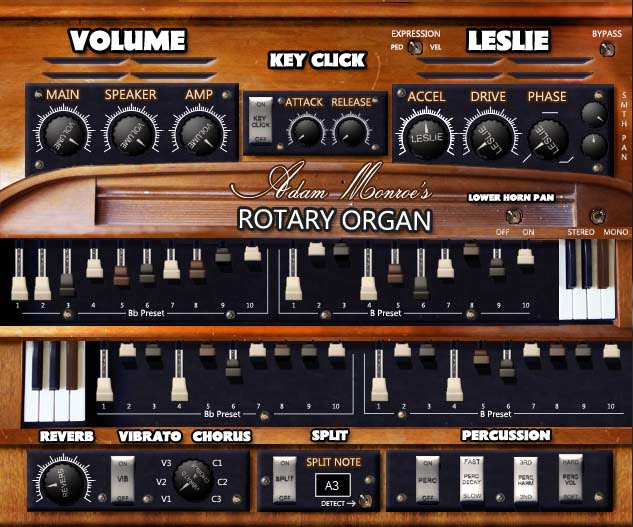 The instrument was sampled from a Hammond M3 tonewheel organ, with every drawbar on every note sampled individually via the organ's built-in speaker through a Neumann TLM 102 microphone. The signal was re-amped though a Fender Deluxe Reverb and recorded via a Sennheiser e906. Both signals were run through Grace M101 preamps.
This VST is, essentially, a hybrid between a Hammond M3 and B3 with a more aggressive sound. It is meant to sound a bit unique to already existing plugins and simulations, but with the wide range of parameter combinations, many sounds are possible.
Adam Monroe's Rotary Organ features
60 note range from C2 to C7.
10 drawbars/harmonics per note.
Hammond-style Percussion.
Variable key-click.
Variable acceleration and phase.
Distortion and reverb.
The ability to switch between two drawbar presets.
Upper and lower manuals, with adjustable key-split.
A vibrato scanner.
Stereo or mono summing.
Adjustable smoothing.
32 built-in presets.
Speaker and Amp samples.
The Rotary Organ plugin is available for Windows and Mac (VST/AU), priced at $20 USD.
More information: Adam Monroe Music / Adam Monroe's Rotary Organ