Adam Szabo has released an update to the Viper software synthesizer instrument for Windows.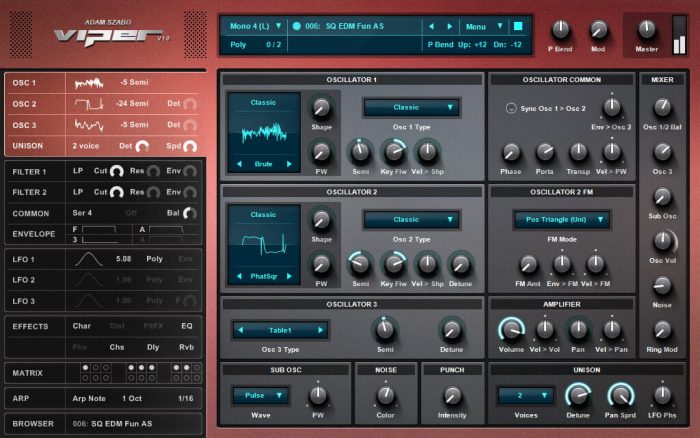 Version 1.0.5 comes with wavetable oscillators, new waveforms for the sub oscillator, and lots more.
Viper aims to deliver the sound characteristics of legendary hardware synthesizers in a virtual format. We can call Viper a Virtual Performance synth, with a vast array of features like: multiple oscillator types with user waveforms, Sync, Frequency Modulation, Ring Modulation, unison up to 8 voices, filter saturation, filter routings, mod matrix, high quality effects, a powerful arpeggiator, and much more!
Changes in Viper v1.0.5
Added Wavetable Oscillators (compatible with Serum wavetables).
Added Saw and Sine waves to Sub Oscillator.
Added Shimmer to Reverb.
Added new Arp sequencer modulation.
Added Factory Bank 4.
Increased maximum Polyphony to 128 voices.
Increased LFO rate through mod matrix.
Fixed LFO rate crash bug.
Fixed LFO Sample and Glide bug.
Fixed Cantabile freeze bug.
Fixed Oscillator phase reset bug.
Fixed Oscillator waveform preset saving bug.
Fixed Arp pattern saving file dialog bug.
Fixed Bank loading file dialog bug.
Fixed Random Mod Source rendering bug.
Fixed Portamento rendering bug.
Viper for Windows (VST) costs 89 EUR. It is on sale at a 25% discount as part of a Holiday Sale. Use coupon code XMAS2019 at the checkout to get the discount. The offer expires December 31st, 2019.
More information: Adam Szabo