Overloud has announced the release of Sculptube, a virtual tube processor effect for Windows and Mac.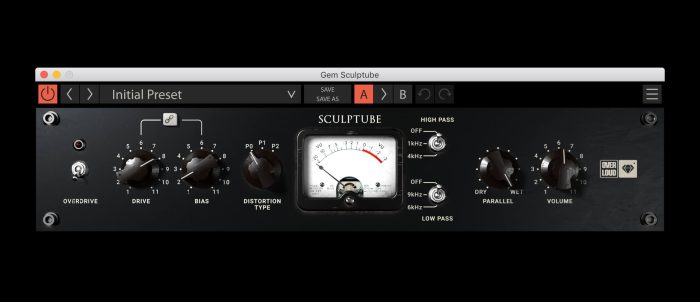 The plugin is dedicated to adding valve-produced harmonics to sounds, creating an authentic tube coloration which goes from slightly warmed-up tones to heavy distortions.
Sculptube is the latest product of a new high-end Overloud plugin line, called Gems, dedicated to mixing and mastering. Sculptube is the ultimate tool for professional engineers who mix with no compromises.
Sculptube includes a variety of analog tones.
WARM-UP: with mild Drive settings you can recreate an authentic analog coloration to individual tracks or mixes. DISTORT: the Sculptube can be used to overdrive the input and recreate different kind of tube distortions, including Triode and Pentode curves. EXCITE: thanks to its built-in eq and parallel processor, it can be used to revive the tracks by adding natural harmonics in the high-end.
Sculptube features
Hyper-realistic simulation of tube warming/distortion.
Triode and Pentode simulation.
Tube biasing control.
Built-in EQ and parallel processing to sculpt the tone.
Low CPU usage: more than 1500 instances on a Macbook Pro Retina.
Multilevel undo-redo.
A/B Comparison.
Scribble Strips: take notes anywhere on the plugin panel.
Meter Calibration: calibrate the VU meters at 4 different sensibilities.
Sculptube (VST/AU/AAX/Standalone) is available for the list price is 139 EUR/USD.
More information: Overloud