Toontrack has released of the Compression & Saturation EZmix Pack, a collection of ready-made signal chain presets designed to add warmth and saturation to your mixes.
The pack comes with 50 signal chain presets, with effects ranging from various types of distortion and EQs to compressors, limiters as well as tube and tape saturation.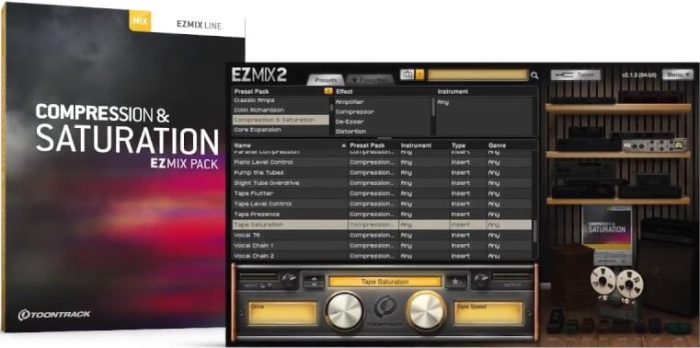 Leaving sound ideals aside, balance and definition is arguably the two things that make or break a mix. For this, compression is key. But one can't simply just slap a random compressor setting on the mix bus and call it a day – it takes more audio surgery than that. Each instrument and component needs its individual treatment. The same thing goes for another universal battle that mix engineers seem to constantly be struggling with in the modern world of "in the box" mixing: warmth and analogue feel. This subtle art involving tube and tape distortion, various forms of EQ and compression is often what adds that final "glue" and shimmer that just makes a mix come together.

This collection of EZmix presets takes a broad approach and delivers 50 unique chains of effects all designed to add nuance, definition and control to any instrument or element in a mix. Vocals, guitars, bass, drums, master bus and mix bus settings – you name it. "My idea was to make the most diverse and 'all-round' 50 presets I could come up with based on various chains of effects adding warmth, distortion and compression. If you single out just one preset, the A/B may be subtle on some, but using these presets in every facet of the mix stage will make a huge difference in the end," commented Mattias Eklund, the creative mind behind the Compression & Saturation EZmix Pack.
The Compression & Saturation EZmix Pack is currently on sale at Plugin Boutique for £24 GBP / 27.50 EUR (22% off regular).
More information: Toontrack