Loopmasters has announced availability of Loopcloud 3.0, a major update to the free cloud-connected application for browsing, streaming and importing your samples, loops and sounds effortlessly into your DAW.
With version 3.0 you can now add your entire sample library to Loopcloud and rediscover your sounds. Integrate, access and audition all your sounds like never before.
Most producers use only a small percentage of their sample library. Finding sounds takes too long, time-stretching audio causes friction, and pitch-shifting is a total pain.

With Loopcloud 3.0, we're supercharging your sample library. This update combines the power of Loopcloud's tagging, previewing, audio warping and DAW integration with your own local sample collection. Now any sound you own can be auditioned in time and in key with your project, no matter which DAW you use.
Add All Your Samples Into Loopcloud
Say goodbye to spending time searching through your disk of poorly organized folders and scattered packs – your own samples can now show up in Loopcloud's browser. To import folders, simply use the + button, or drag and drop any files, folders or samples into Loopcloud.
Loopcloud Analyzes, Tags and Organizes your Samples
Now comes the clever part: Loopcloud will automatically analyze your imported samples and add important tags like Content-Type, Instrument, BPM and Key. You can customize and add your own tags to personalise Loopcloud to your way of working.
Loopcloud Makes Everything Easier
Once your sound library has been analyzed and properly tagged, you can take advantage of Loopcloud's incredible search and filtering systems, loop patterns for one-shot samples, and Auto Key pitch-shifting technology.
With Loopcloud, you can now use 100% of your library, integrating sounds that have come from anywhere alongside everything in the Loopmasters' catalogue. All your sounds are tagged up and ready to audition in your DAW via the Loopcloud plugin.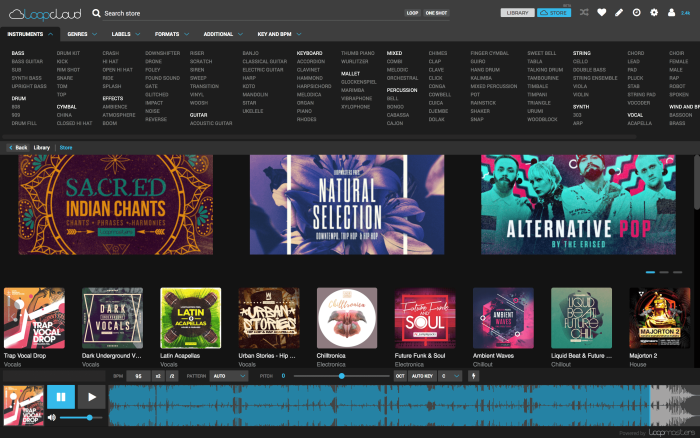 Loopcloud 3.0 features
Import your own sample folders and have them appear in Loopcloud.
Loopcloud automatically tags new samples with Key, BPM, Instrument and Type.
Time-stretch and pitch-shift your own samples to match your project.
Experiment with patterns to audition one-shot samples.
Changes made in your system folders are reflected in Loopcloud – scan on start-up or manually.
Specify the CPU usage used to analyze your samples when required, or simply pause.
Redesignate wrongly tagged samples for analysis by re-tagging.
Add more detailed tags of your own using Loopcloud's existing tag editor.
The Loopcloud application is a free download for Windows and Mac.
More information: Loopcloud