ADDAC System has announced the new multimode filter 604 Dual Filter, a Eurorack module designed to be used in a stereo signal path.
604 Dual Filter takes its inspiration from the unique sound of the ADDAC 105 4 Voice Cluster which was announced last November.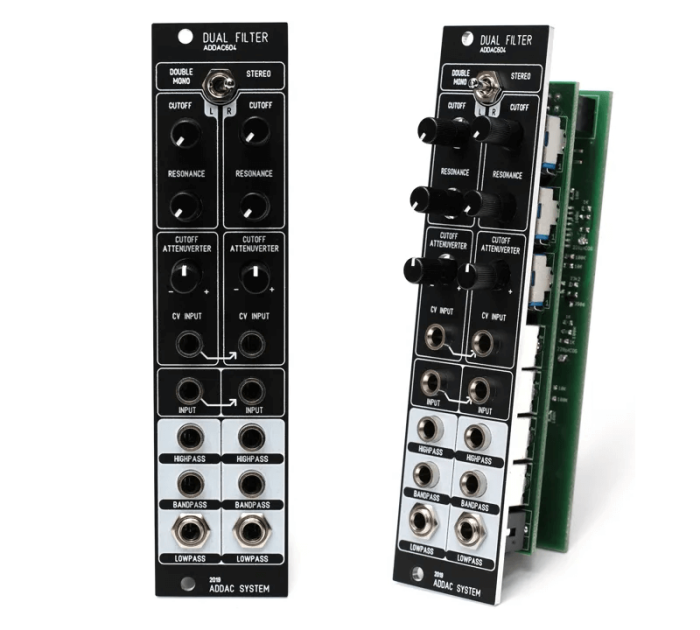 "While developing our 105 4 Voice Cluster module, we created brand new multi-mode filter designed to be placed after the summing mix stage," said André Gonçalves, founder of ADDAC System. "We were so pleased with its sound that we decided to release it as a dedicated filter."
To make the module more interesting, ADDAC System engineers duplicated the circuitry of the new multi-mode filter so it could be used anywhere in a stereo signal path. Further, to add sonic versatility, a switch was also included to set the working mode from Stereo to Dual Mono mode, in which both filters can be used independently.
In Stereo Mode the Left Cutoff is used to control the Right Cutoff. In this case, the Right Cutoff Knob and CV Input are simply bypassed and will have no impact on the Right Channel operation. This allows immediate sync of both filter frequencies when the Stereo position is engaged.
Optionally there's a jumper in the back of the unit that, when placed, connects the Right Controls back to the Right CV control. This allows the user to control the offset of the Right Channel Cutoff. Meantime, resonance is independent on both Modes and still has to be set manually to match both channels.
Both the Audio and CV inputs are normalled from the Left into the Right channels. As expected, plugging any input to the Right channels removes this connection.
The ADDAC System 604 Dual Filter will be shipping in March at 180 EUR. It will also be available as a full DIY kit.
More information: ADDAC System