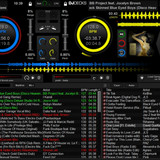 Adion has released version 0.98 of djDecks, a computer mixing program for both beginning and professional DJ's.
This release brings initial support for the Reloop Digital Jockey 2 controller, improved support for the DJ-Tech i-Mix controller, and some improvements to the VCI-100 and Denon controllers. It also brings improvements to the smart playlist feature and faster search-while-typing. As usual there's also a number of bugs that have been fixed.
Changes in djDecks v0.98
Added: Storing m4a/mp4 tags.
Added: New smart playlist feature: group by range and createddays, modifieddays fields.
Added: Denon controller option to select match button action.
Added: Negative fade time selection to add a gap between songs during automix.
Added: Reading of AIFF tags.
Added: Option to record mixes in FLAC and AIFF format.
Added: Option to automatically load first cue point when opening a song.
Added: echo_source_end and echo_stereo_pingpong parameters for echo (to be used in your own skin or midi mapping for example).
Added: Initial support for Reloop Digital Jockey 2 controller.
Improved: DJ-Tech i-Mix controller mapping.
Improved: No more click when activating or deactivating tempo control.
Improved: Jog wheel touch response of vci-100 controller.
Improved: Year tag field can now be read from both TDRC and TYER frames.
Improved: Audio CD playback should work better now.
Improved: Search while typing works faster.
Fixed: Opening files from explorer using open with.
Fixed: Problem with using certain 24-bit ASIO inputs.
Fixed: Possible playlist search crash.
Fixed: Problem browsing network shares.
Fixed: Various issues with pitch bend for sampler.
Fixed: HC4500 display updated when returning from CD mode.
Fixed: Bug preventing 2 denon hs-5500's to be used simultaneously.
Fixed: Turning on mic with BCD-2000 caused VST effect on deck 3 to be disabled.
Fixed: Small artefacts when resizing a skin.
Fixed: Deleting/Renaming cases using Case button.
Fixed: Preview player not working with DirectSound output.
djDecks is available to purchase for Windows PC, priced at 112 EUR. A demo version with all features of the full version is available for download from the djDecks website (stops working after 30 minutes of use).
More information: djDecks