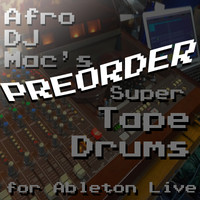 AfroDJMac has announced Super Tape Drums, a drum sample sound library for Ableton Live.
I am very excited to announce that next Wednesday, June 27th, I will be releasing a massive Premium Ableton Live Pack called "AfroDJMac's Super Tape Drums."

I took over 450 drum samples from drum machines, synths, 8-bit sources, the OP-1, and acoustic drum sources, and recorded them on to my Tascam 8-track reel-to-reel machine. The magic analog-warmth does to drum samples is beautiful!

From there, I created 30 Ableton Live Drum Rack Instruments with some great features that allow you to manipulate the sounds and cycle through the different drum samples with ease.
The Super Tape Drums will be available to purchase on June 27th, priced $7.99 USD.
AfroDJMac is offering a special pre-order deal for this new Live Pack.
As a way to say thanks to the people that have been so supportive of my work, I have set up a special presale. If you order the Super Tape Drums pack by 12 noon EST on Tuesday, it will only cost you $4.99. On Wednesday June 27th, you will get an email with a link to download the Super Tape Drums pack, before anyone else. Plus as a special bonus, when you preorder you will get an exclusive free download for an Ableton Instrument made with the Roland Juno 106. Entitled, "Juno-Bonus," this instrument is not a part of my Roland Juno 106 Pack; it was made as a thank you for your preorder.
More information: AfroDJMac