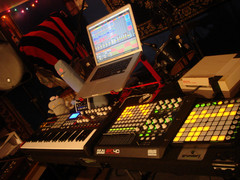 AfroDJMac returns with Drum Tracks, another free Ableton Live Rack.
This week I'm excited to show you how I treat my drums in my live performances. I like to keep things under certain limitations and uniformity when I play live, so things don't get out of control. I don't want to have a zillion different clips of variations of drum parts or a zillion different fills, so I created this rack that allows me to really mess with the drums and create unique, somewhat random variations, that always come in and out right on time.

The rack I'm giving you is the one I use in my shows and is capable of creating nice variations and effects, all with the press of a button or turn of a knob. Also, I'm showing you how I use things like Follow actions and changing the Launch settings of my clips to create interesting and always changing fills.
The Drum Tracks Rack is available as a free download from AfroDJMac.
More information: AfroDJMac