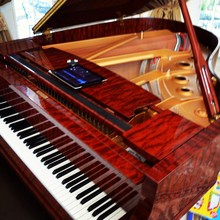 AfroDJMac has released Mom's Piano, a new free Ableton Live Rack.
My mother has a beautiful baby grand piano. Though I'd feel a bit dishonest calling myself a pianist, I love getting a chance to sit down at this piano to bang out some melodies. As much time as I spend playing around with synthesizers and digital instruments, there really is nothing quite like the sound of an acoustic instrument.

Over the holidays, I sampled a couple of octaves on this piano, while my mother, grandmother, and aunt were in the kitchen having a conversation over a cup of tea. As the notes decay, you can hear their voices in the background, which I think adds a ton of character to this instrument.
The Live pack is a free download at AfroDJMac.
More information: AfroDJMac / Mom's Piano