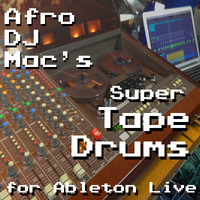 AfroDJMac has released Super Tape Drums for Ableton Live, a collection of drum samples recorded to a reel to reel tape machine.
There's some kind of magic that occurs when audio is put to tape. One of my best musical investments has been my Tascam 388 Studio 8 Track reel to reel machine. In a world of digital music that can sound as if it were produced inside a sterile vacuum, this tape machine can transport recordings into the warmth and coziness of the living room you used to play with your Legos in. Something about that analog tape just makes things warmer and smoother.

So I recorded some drum samples to the tape…I wound up recording over 450 drum sounds to be more exact! It took about 10 minutes of tape to get them all down.
Super Tape Drums features
5 Ableton Live Sets.
450+ drum samples recorded to tape.
5 Families of drums (8 Bit, Drum Machines, OP-1, Synthesized and Live, Odd Percussion).
30+ Ableton Instrument and Effect Racks.
Drum racks that allows you to quickly audition different drum sounds, layer drums together, and browse by drum type (Kick, Snare, Toms, Noise, Cymbals).
The sample pack is available to purchase for $7.99 USD.
More information: AfroDJMac / Super Tape Drums for Ableton Live