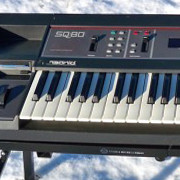 AfroDJMac celebrates 6 months of free Ableton Live Racks with SQ-80 Hush, the 26th download in the series.
A big reason I do this is to meet new people and share ideas and music with people I would otherwise have no way of reaching; I thought that this 26th Ableton Rack should reflect that.

One great soldier of information in the electronic music community is Tom who writes the blog Waveformless. The motto of the site is a "Freeform discussion of electronic music and the techniques and gear used in making it." I highly recommend checking it out and exploring the vast information from synthesizer news to free sample Fridays. This weeks Free Ableton Live Rack was created using some of Tom's free samples. Thanks to Tom for sharing these samples and letting me rack them up for everybody's enjoyment!
The SQ-80 Hush Live Rack is available as a free download from AfroDJMac.
More information: AfroDJMac