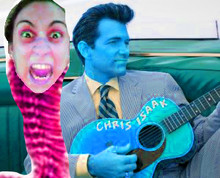 AfroDJMac has released Big C's Wicked Game, a new download in a series fo free Ableton Live racks.
For the 19th installment of my free Ableton Live Rack series, I bring you a synth based off of a quick sample of the slide guitar from the Chris Isaak song "Wicked Game." Man, I love that song :)

It's been getting some attention recently, thanks to some cool covers that are circulating, including this one from Washed Out. Anyway, I took that sample and mixed it with a sample of the infamous and notorious Big C, and mushed them together with some fun effects to bring you this weeks free synth.
Big C's Wicked Game for Ableton Live is available as a free download (valid email address required).
More information: AfroDJMac