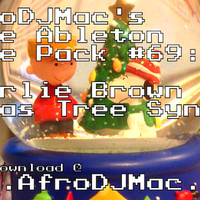 AfroDJMac has announced the release of Charlie Brown X-Mas Tree Synths, a free sound pack for Ableton Live.
Merry Christmas all! AfroDJMac here with a special gift to help you celebrate the holiday season. I'm sure the peaceful sounds of a music box brings many of us back to our childhood. Turns out the soft and soothing chimes also make for some interesting Ableton Live instruments!

Saturday I was a Christmas party where I found a beautiful Charlie Brown Christmas snow globe. I snuck off to a quiet portion of the house and sampled it on my iPhone. From there, I created the 3 Ableton Live instrument racks I am now sharing with you. I think they all have a lot of character and organic movement to them, with the combination of the plucked notes mixed with the cranking mechanism inside the globe.
The Live pack is a free download at AfroDJMac.
More information: AfroDJMac / Charlie Brown X-Mas Tree Synths