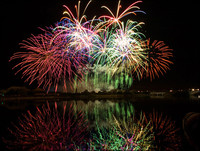 AfroDJMac has released FirecRACKer Synth, a free Ableton Live rack created with recordings of fireworks.
Fireworks light up the sky with beautiful colors and patterns for the eyes. But can they do the same for the ears? We are about to find out… This weeks Free Ableton Live Rack, "The AfroDJMac FirecRACKer Synth, " was made entirely from the sounds of the fireworks screaming through the sky over Long Island, New York on July 4, 2011.

I recorded the sound of neighborhood firecrackers and brought them into The Granulator, a free granulating synthesizer that comes with Max for Live. (I haven't spent a lot of time with this, but it seems pretty awesome). After messing about, I was able to get some nice grainy sounds and then sampled that sound and brought it into Ableton's samplers. The result is a nice, textural pad/keyboard sound, as well as a thunderously dirty and fat bass sound.
The FirecRACKer Synth for Ableton is available as a free download from AfroDJMac (email address required).
More information: AfroDJMac