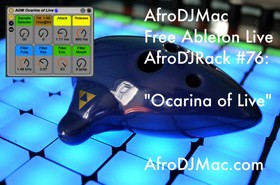 AfroDJMac has launched the third year of his series of Free Ableton Live material with the release of Ocarina of Live, another free Ableton Live Pack.
I'm sure it's pretty clear that video games have a large influence in my life. One of my first and favorite Live packs was the AfroDJMac Nintendo Rack. Probably my favorite video game series of all time is the Legend of Zelda. It has captured my imagination since I was about 5 or 6 years old, and I've purchased Nintendo systems exclusively to play Zelda games.

A good friend of mine, J-Rod, gave me a really nice ceramic Ocarina for Christmas a few years ago. It's just like the one Link uses in many of the games. It even comes with a little booklet that teaches you how to play songs from the games. This week, I finally put this ocarina to good use. I sampled a couple of notes into Ableton and created an instrument that works especially well with Push. It has controls for the sample selection, filters, delay, etc. It even makes use of Push's aftertouch to control subtle vibrato and the filter frequency. You can adjust it to sound true to the Ocarina, with slow attacks reminiscent of your breath blowing in. But it also can function like a weird electric keyboard, or under extreme manipulation, some kind of bizarre breathing organism.
The Ocarina of Live pack is a free download. It requires Ableton Live 9.
More information: AfroDJMac / Ocarina of Live