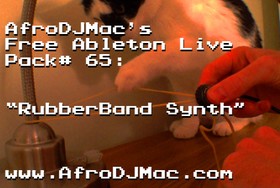 AfroDJMac has introduced the RubberBand Synth, a free sound library for Ableton Live featuring a contact mic recorded rubber band.
So, for my first endeavor with my new contact mic, I decided to try to record a rubberband. As you can see from the video, my cat, Theo, was just as excited about this project as I was. The resulting sound was a much cleaner, punchier recording than I was able to achieve with a condenser mic (I tried to do this months ago, but it wasn't sounding very good).

I recorded the samples into Ableton Live, did a little high pass filtering to remove some sub bass frequencies, and dropped them into Sampler. From there, I added some effects, an FM oscillator, and an arpeggiator to create this, the 65th Free Ableton Live AfroDJRack. Check out the video below for an in-depth walkthrough and just below that is the free download, enjoy!
The RubberBand Synth for Live is a free download at AfroDJMac.
More information: AfroDJMac