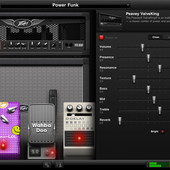 Agile Partners and Peavey Electronics have released version 1.1 of AmpKit, the amp and pedal studio with extensive recording and re-amping capabilities.
Now a "universal" app supporting iPad, iPhone and iPod touch, AmpKit 1.1 is available for free to everyone who already purchased AmpKit for iPhone/iPod touch.

In addition, any gear (i.e., amps, pedals, mics) you already purchased can be easily shared across devices using AmpKit's Restore Purchases functionality. AmpKit 1.1 leverages the iPad's seamless rotation between landscape and portrait orientations and takes full advantage of the iPad's larger display. For example, you can view an entire amp and pedal setup while simultaneously modifying gear settings, or view as many as 15 setups or presets at once without scrolling.

AmpKit 1.1 provides users with a delightful interactive experience that includes beautiful amp and pedal artwork designed specifically for iPad.
Changes in AmpKit v1.1
Audio Copy and Paste. You can now copy AmpKit recordings and paste them into other apps, and paste audio from other apps into AmpKit as backing tracks or dry guitar audio. AmpKit supports both Sonoma's AudioCopy/AudioPaste standard and Apple's General Pasteboard.
Amazing New Gear. AmpKit 1.1 offers a new American Acoustic amp with 16 built-in effects, a Tremo-LOL pedal with American and British tremolo modes, and the Wahba Doo all-in-one envelope filter + auto-wah + manual wah with accelerometer tilt support.
Awesome New Bundles. You'll find three new bundles in AmpKit 1.1 featuring discounts ranging from 50% to 70% compared to individual component prices! In fact, you can buy almost every item in the Gear Store via these highly discounted biundles.
And Much More! AmpKit 1.1 offers a ton of additional new features and enhancements including the ability to place pedals both before and after the amp; instant access to your iPod music library so you can jam along; setup sharing, favorites and locking; quick jump from one favorite setup or preset to another; and a lot more!
AmpKit is available as a free download from the iTunes App Store. AmpKit+, which includes all the gear in the free version of AmpKit plus 3 amazing amps and 8 essential pedals at less than 1/2 their individual prices, is available for $19.99 USD.
More information: Agile Partners / AmpKit